OzHPV provides this service to the HPV Community free of charge.
Ads are previewed to members prior to being posted on this page. Want to see the ads early? Become an OzHPV member.
Send your recumbent-related ads to webmaster

OzHPV For Sale ads are also available on Facebook
Greenspeed GTO
Low miles, but refurbushed with some new parts/upgrades. New chain and front "big" chainring. New Schwalbe Marathons and a spare set (of 3). New locking brake handles. Mirrors (attached to "pull-up handles" as in pictures), fenders, computer, rack, panniers. Built 2006 but not used since 2007-8. Located in Traralgon and I brought it from Canada so my friend could get exercise (has disc issues with his back),but my friend is exercise-resistant, so it is time to sell the GTO with the extras $1500 ONO.
Australian mobile is 04 9748 3982 (until mid-late August). Email is kenpisichko@gmail.com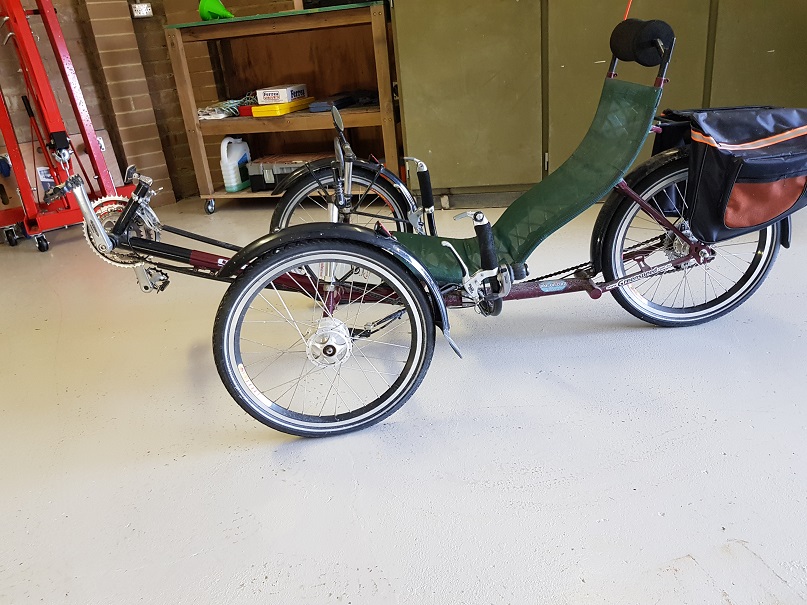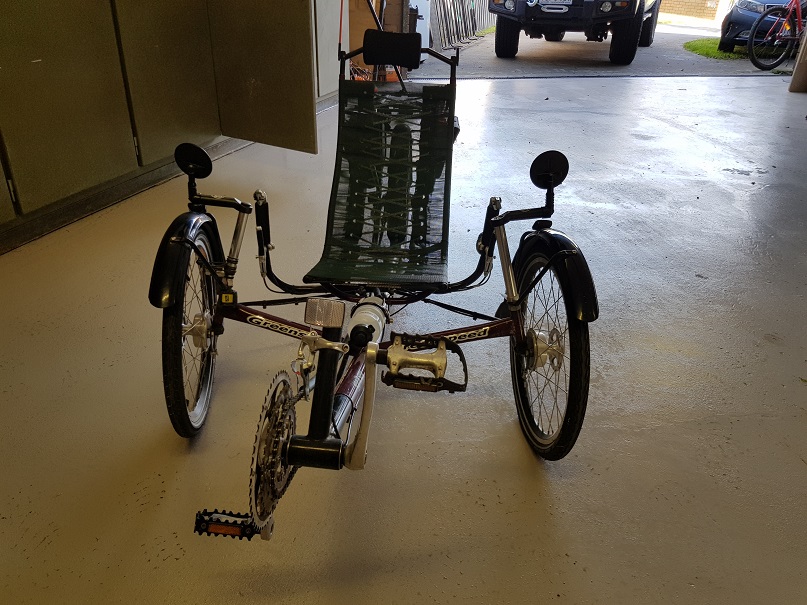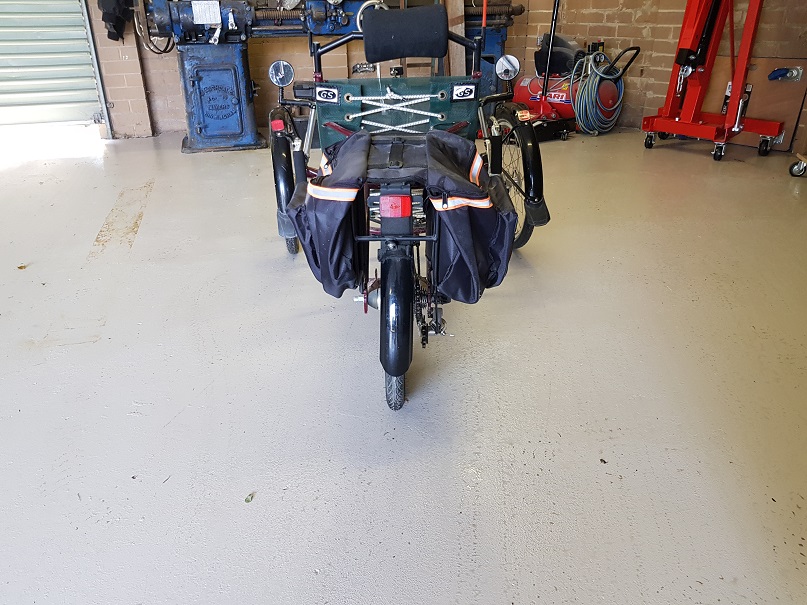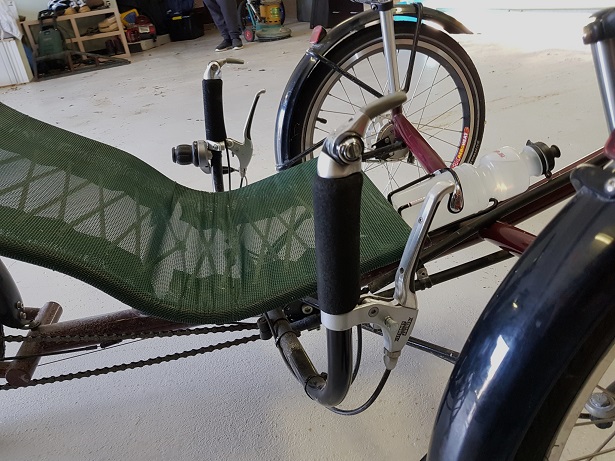 Custom Recumbent
This is Betsy. Betsy is, as you can see, a recumbent.

She's served me well for many years, but I can't really ride her very often any more, and I need to clear some space for some renovations. She's been well look after and is in good condition. Has a rack on the back with a pair of collapsable baskets to carry shopping in.
Asking $500
Any questions please just ask.
Contact: Neil Devine 0478 589 989
Hurstville, NSW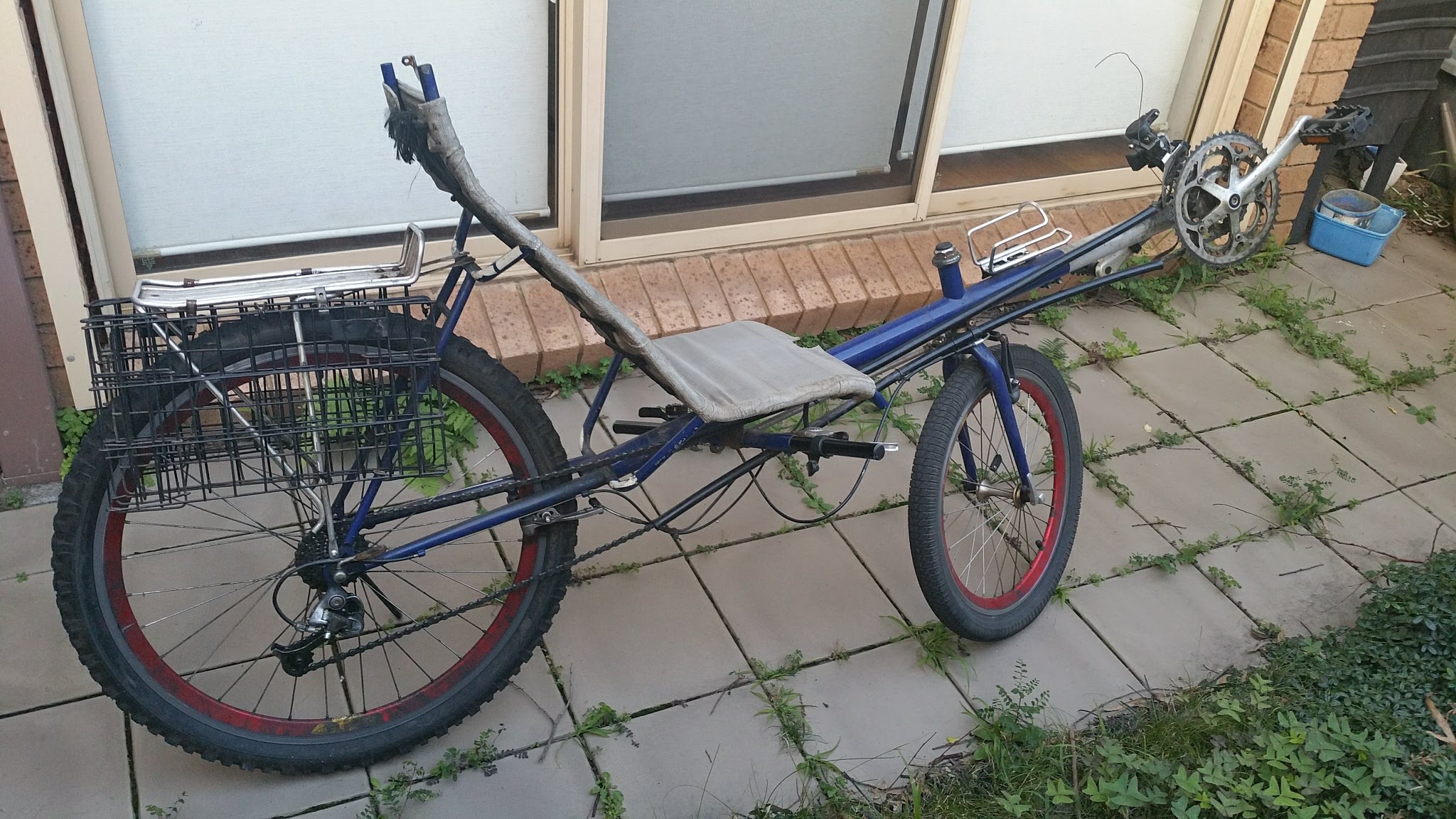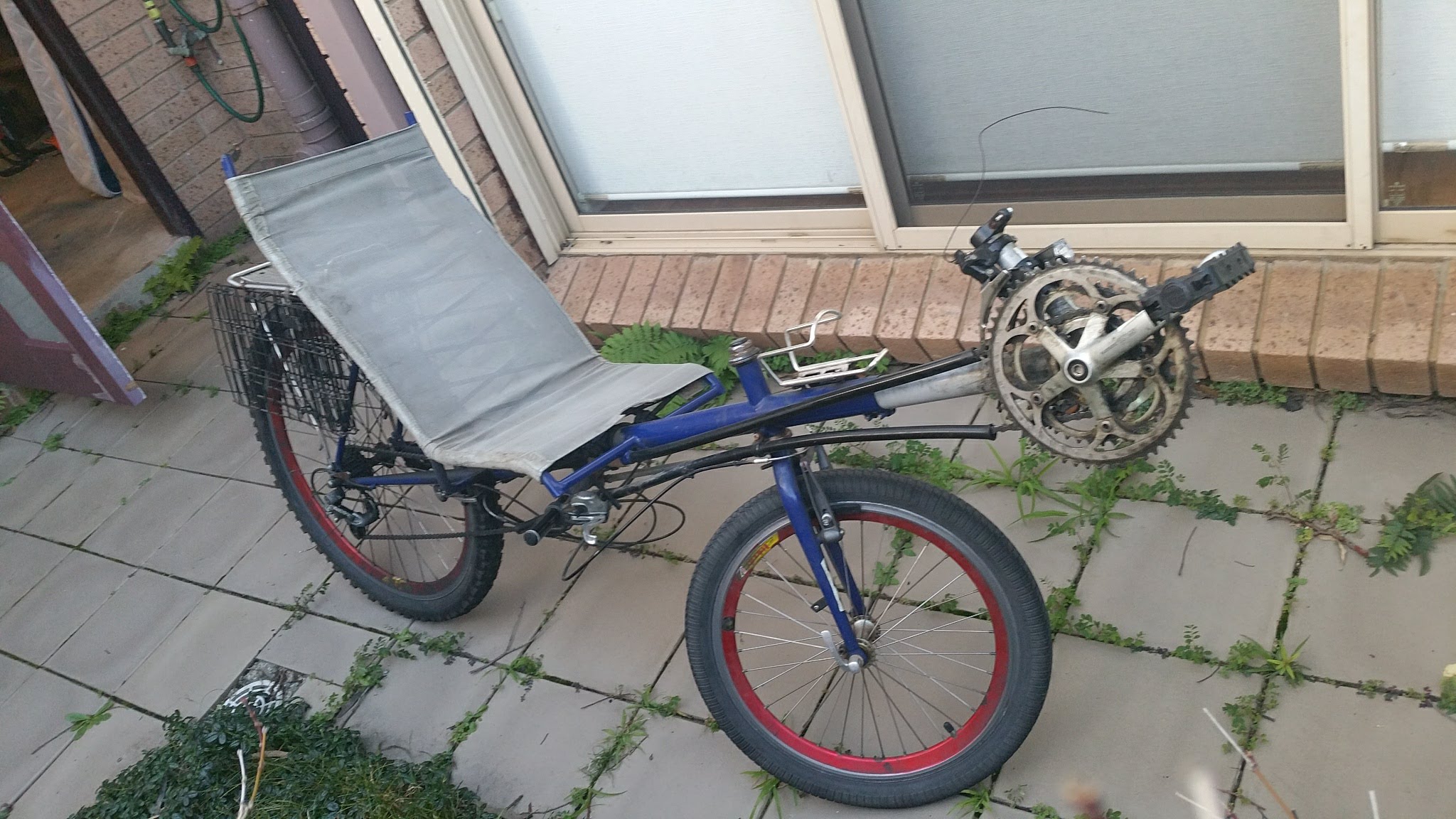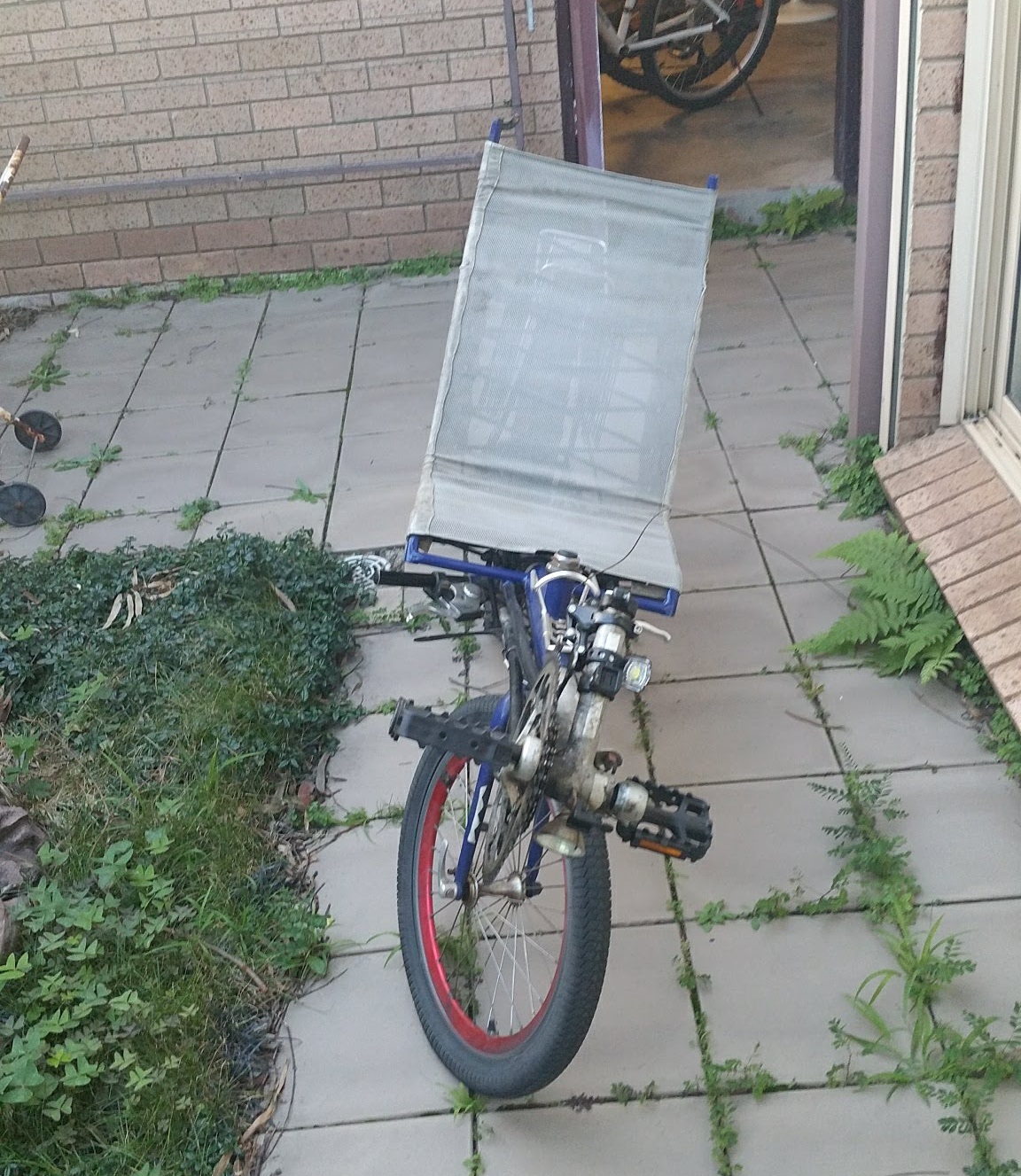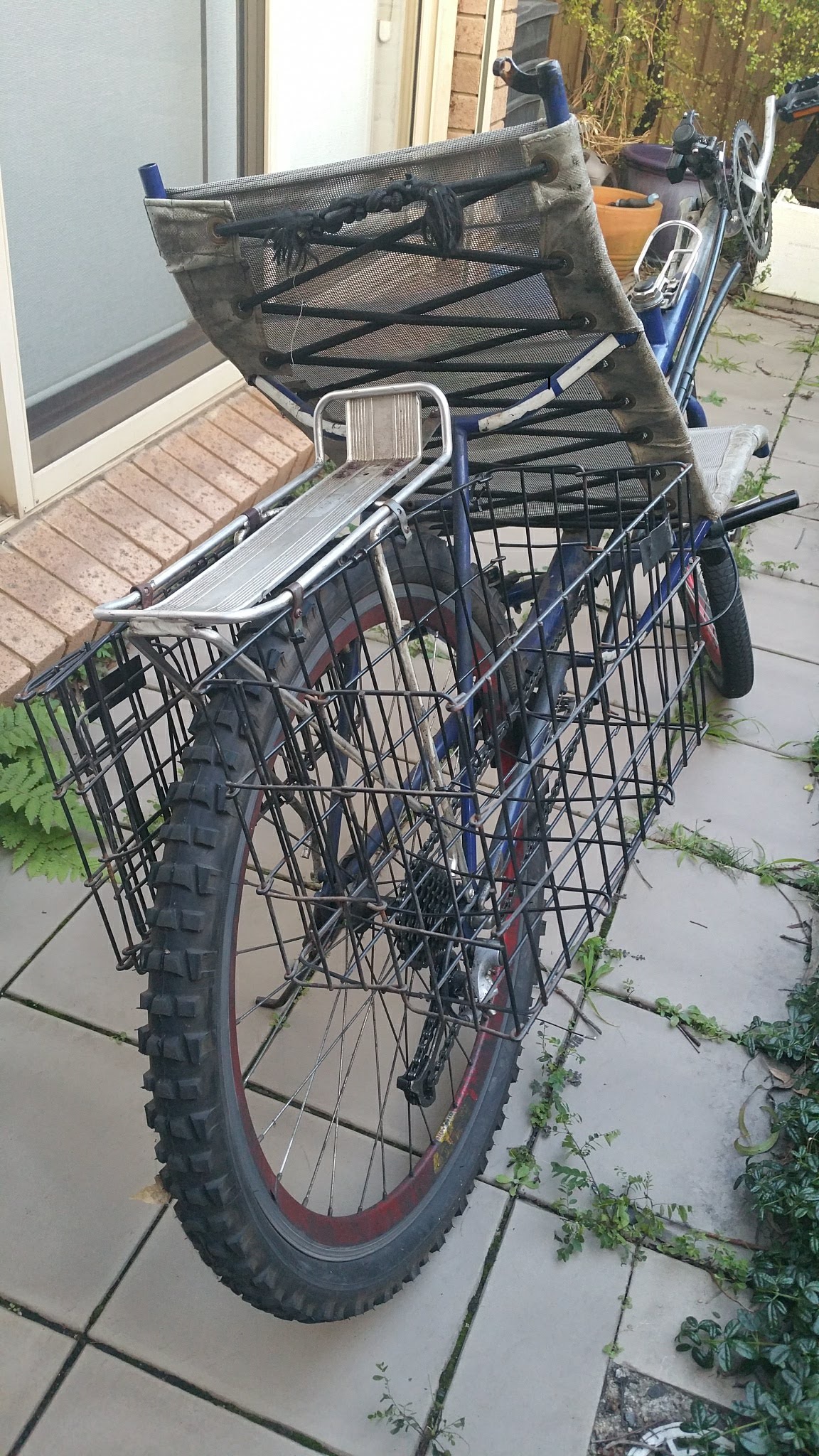 Longbike 'Gulfstream' recumbent tandem, Under Seat Steering.
This is the only one in Australia. It features Avid disc brakes, rear rack, under stoker racks for Ortlieb panniers, 12-36 Shimano cassette, TerraCycle rollers, rear light, three mirrors, Marathon tyres, Sun Rhyno Lite rims 26' & 20', Phil Wood hubs front and rear, mudguards, two S&S couplers and tool.
A great ride for touring but we are moving and have too many bikes and tandems.
To land it here in Australia with the current specs, including freight, insurance, import costs and GST would be about $11,000.00. It's a few years old but in tiptop condition and would suit a new buyer.
I am happy to listen to reasonable/sensible offers.
Contact: Hugh Wilson 0420 676 578 – hbwilson63@gmail.com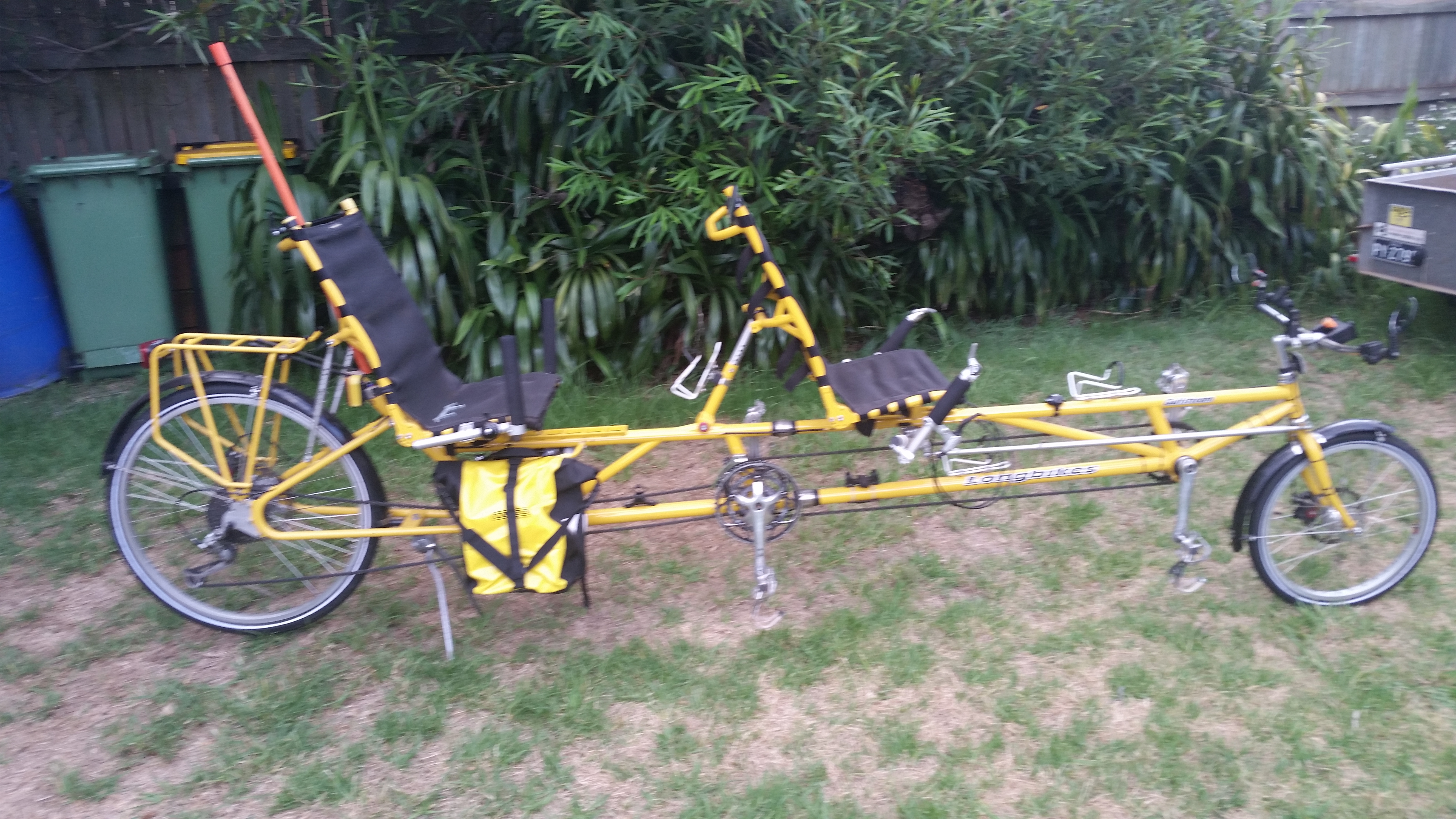 Greenspeed Mk2 GT3
Tiagra 3x9 running gear plus SRAM DualDrive 3 speed hub (81 ratios). Schwalbe Marathons, rear brand new. Greenspeed rear rack, mudguards.
Asking $1650.00 but open to offers.
In Toowoomba – happy to discuss packing/sending on both
Contact: Hugh Wilson 0420 676 578 – hbwilson63@gmail.com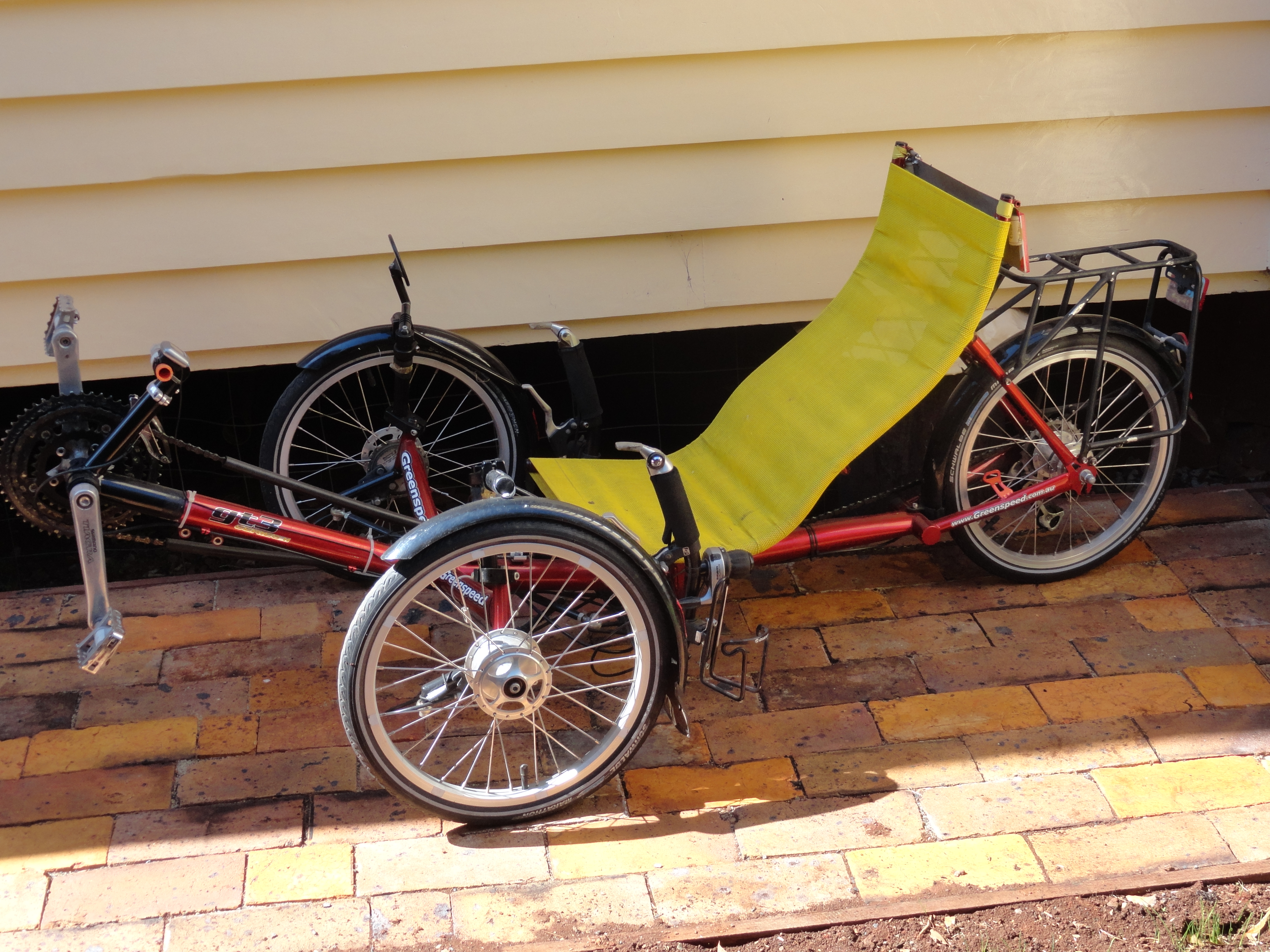 Bacchetta Giro 20 ATT for Sale; $2,000 ONO;
Bike is in very good condition and has low Ks. It also has a pair of Shimano Touring pedals (in black) fitted plus a universal rear rack and seat mounted pannier. Located in Melbourne,. Below are the part specs for the bike:
Frame Bacchetta Custom Ovalized Aluminum w/Disc Brake Tab
Fork Bacchetta Aluminum, w/Disc Brake Tab, 1-1/8"
Seat Bacchetta EuroMesh
Handlebar Bacchetta Aluminum + Bacchetta Stem
Rear Derail SRAM X7
Front Derail Microshift R439 SS
Shifters SRAM X.9
Crankset FSA-Comet (48/36/26T)
Bottom Bracket FSA Mega Exo Integrated
Headset FSA Orbit-X, 1-1/8"
Cassette SRAM PG950 11-34t 9spd
Brakes TRP Spyre Mechanical Disc + Avid Speed Dial 7
Wheels (F/R) Alex DA16, 20" (406) + Alex DA16, 26" (559)
Tires Kenda Kwest, 20" (406x32c), 26" (559x32c)
Chain KMC Z99
Pedals Wellgo LU 897 Platform
BB Height 26"
Seat Height 23.5"
Weight 28 lbs w/ EuroMesh and w/out Pedals
Weight Limit 250 lbs.*
Gear Range 18.7-106.8"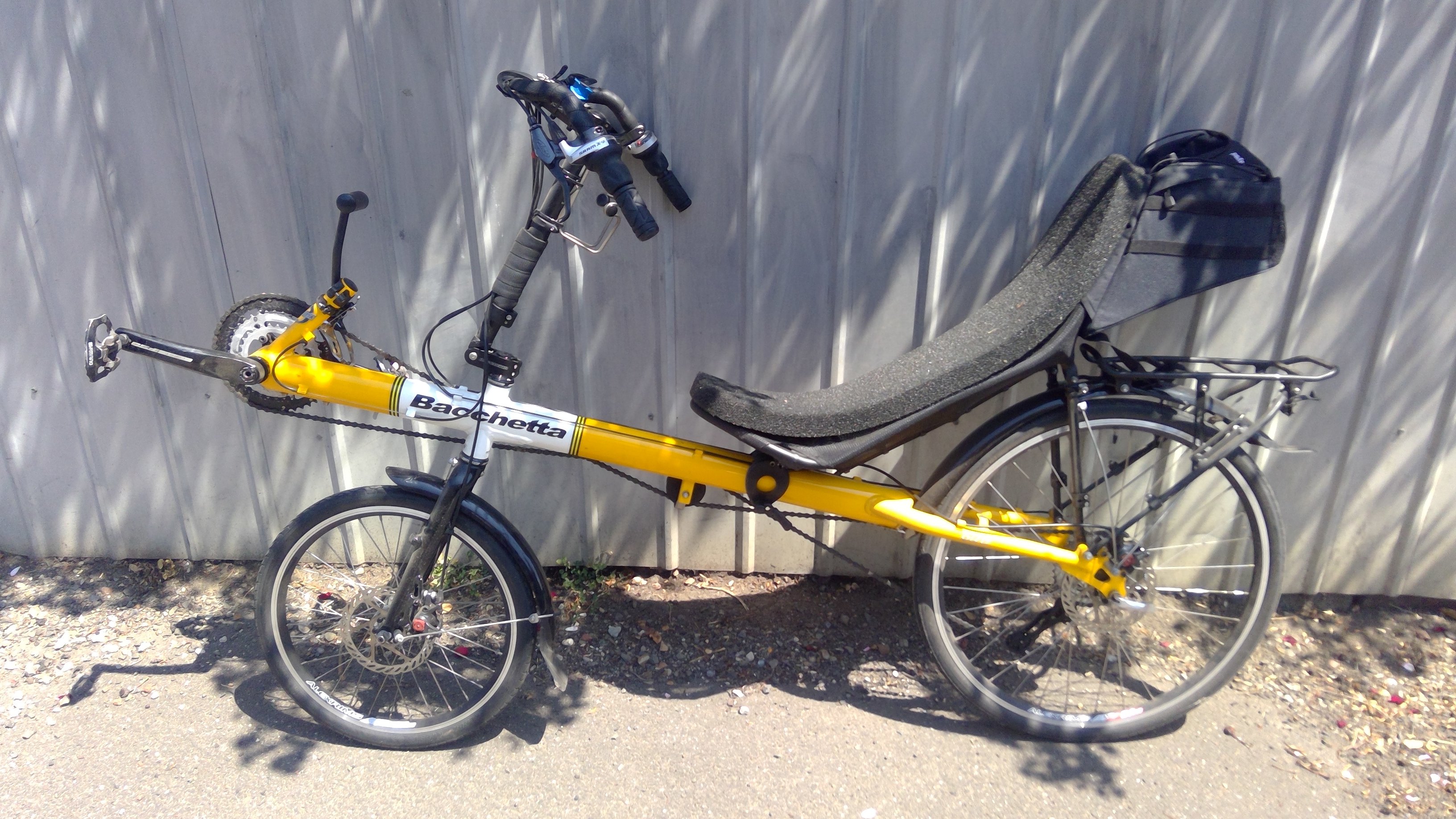 Contact John Price: 0421 741 712.
john.paul.price@hotmail.com.au
Stolen Members Bike - $1,000 Reward
Stolen: 8pm Sat 8th Jan 2011 Congwong Beach Trail, Botany Bay, La Perouse NSW
ONLY ONE in the world. 2 chains, Mid Mounted Rohloff Hub 010259 Serial MT10700617
Blue bag + 3 shiny stripes. Yellow MET helmet. Red and white lights 2 each.
Parts missing, not worth $1000. Best deal is call 0404 090 490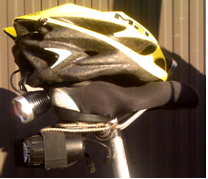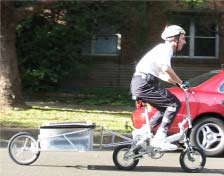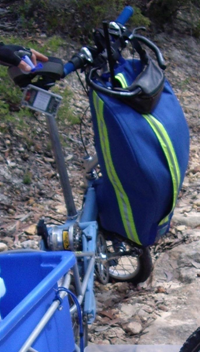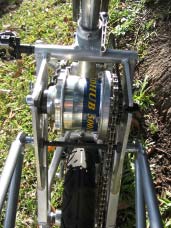 Burley Nomad trailer
Burley Nomad trailer. Seldom used (and only for the grocery shopping).
In as new condition. Includes; rear Cateye LED tail light, flag as well as the optional extra adjustable luggage rack.
$450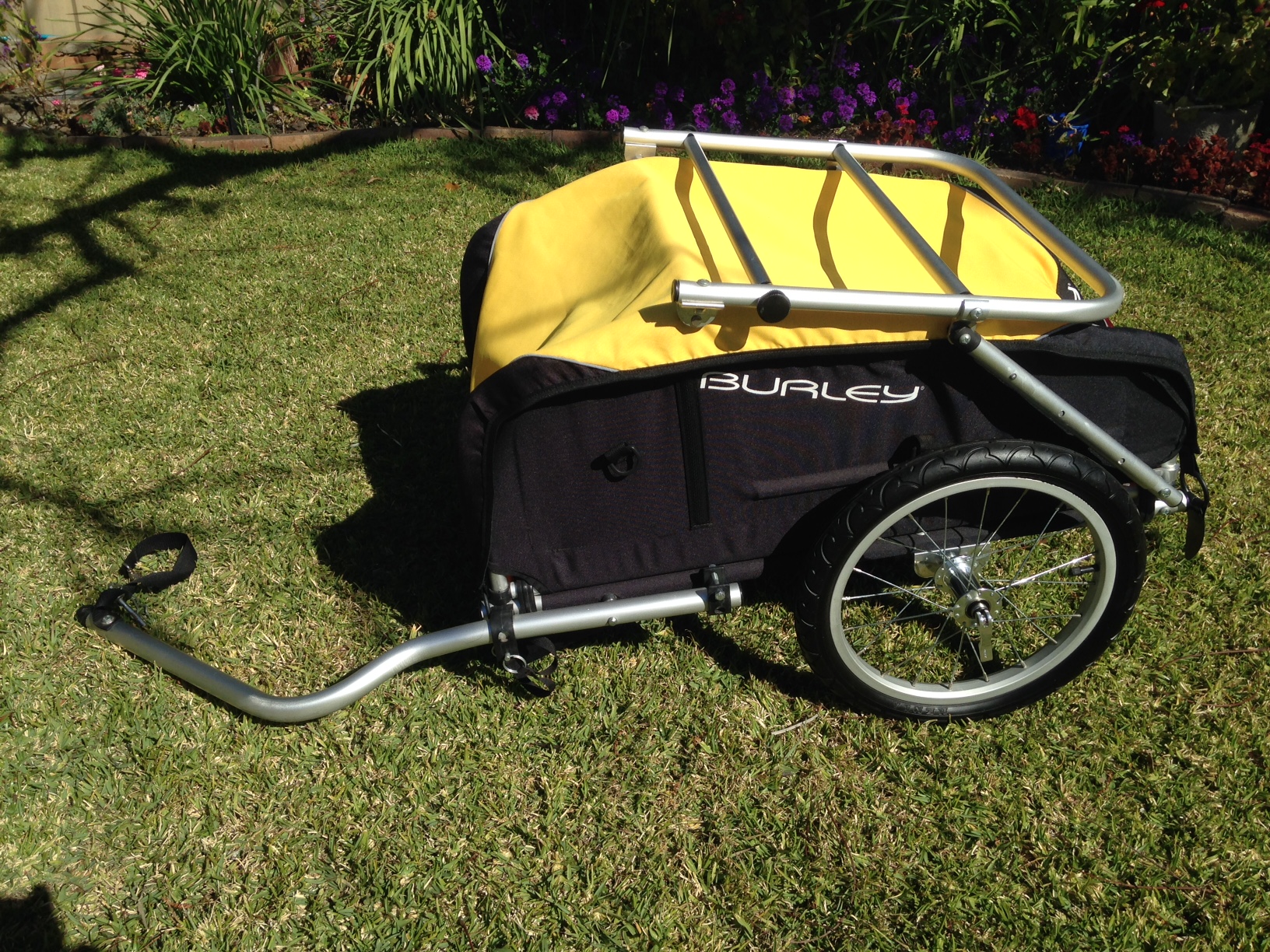 Contact: David on 0407 626 502 or keltish@gmail.com
Location: Kempsey, NSW
Greenspeed GT3 trike in good condition $1700 (reduced from $1950)
Please contact Lindsay Wilson on 0419611424, wilcare@bigpond.net.au
Both located in Wagga Wagga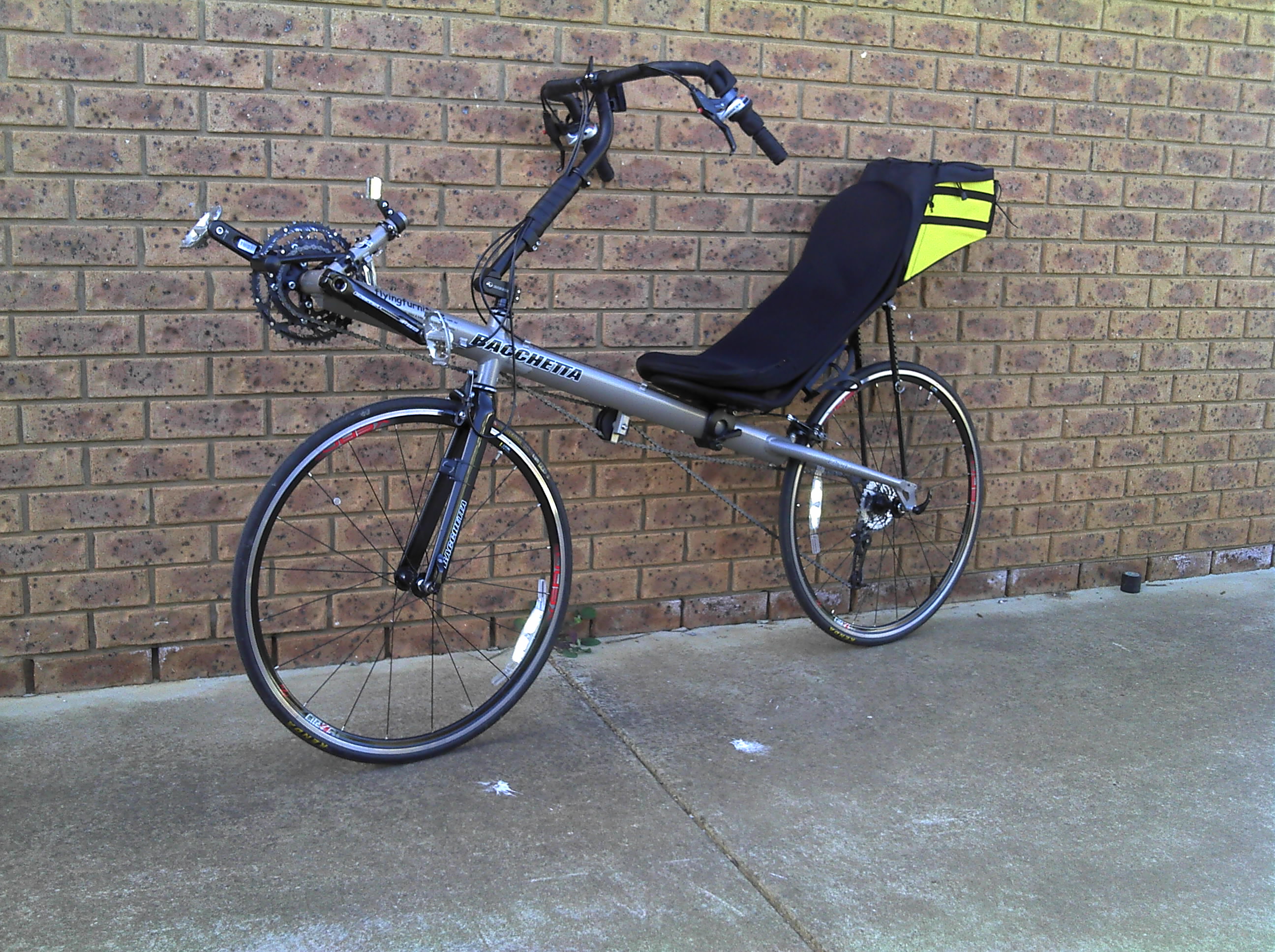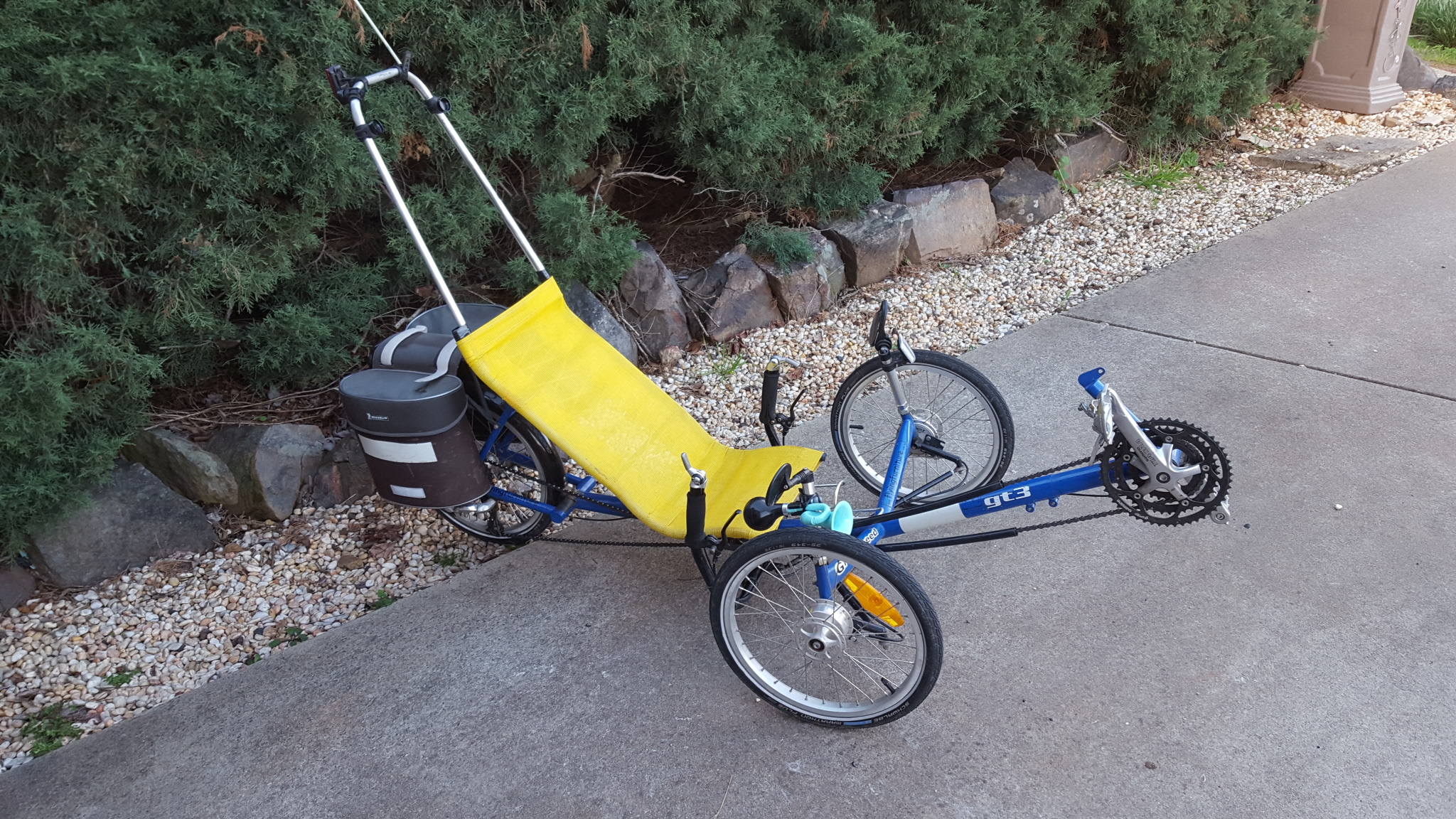 Custom front wheel drive low racer
A very fast bike, frame built by a professional frame builder. This bike has been used mainly as a training bike and within a custom streamliner shell. With a mid drive this bike has a broad gear range, and would suit someone wanting to experiment with speed bikes. Better suited to the velodrome or track than the road.
Features 8 speed cluster with XT long cage derailleur
Front disc brake (cable). 20" wheels with Schwable Durano tyres
Twist grip shifter, custom steerer and fully adjustable boom.
Look Keo or SPD pedals. Trisled carbon seat and foam pad.
Provision for landing gear style wheel (for streamliner)
$1500
Contact Mick on 0403 484 122
Updated 13/11/2017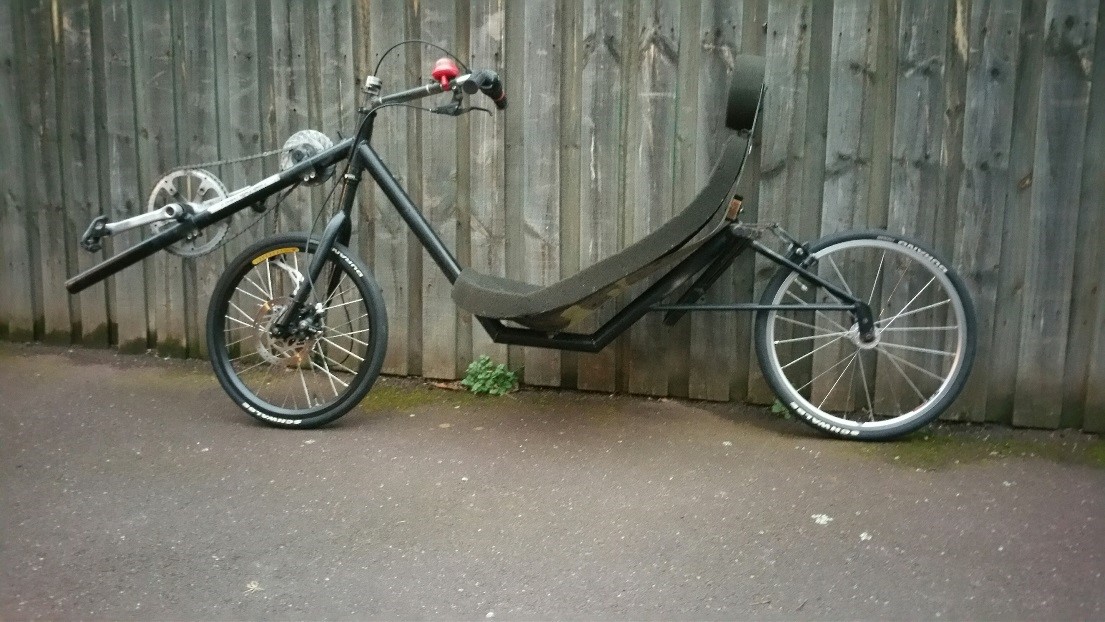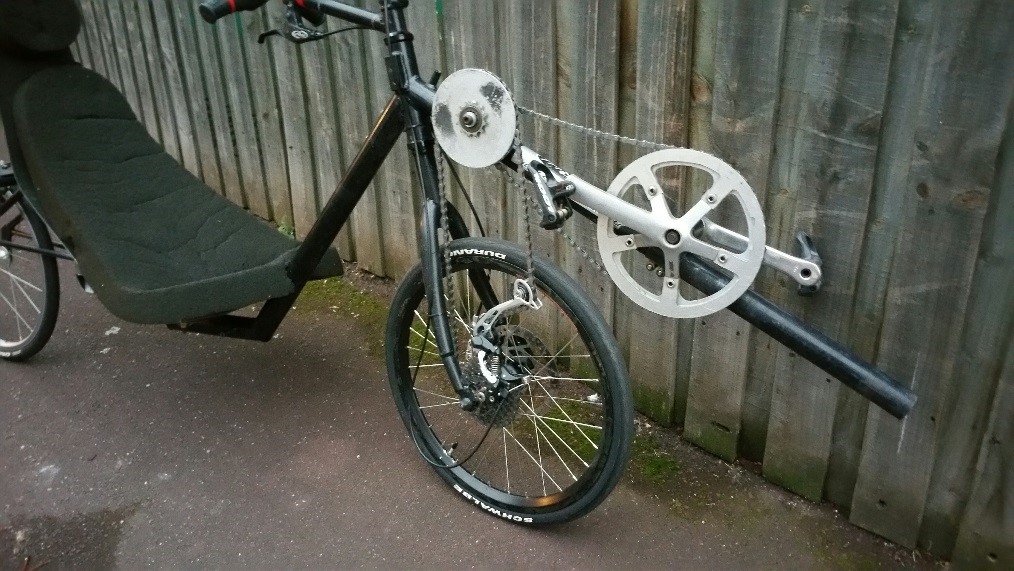 LOGO HANDMADE TRIKE….No 14
Loads of fun, dependable and tough..
Always serviced and maintained…
Fantastic machine was my daily commuter ride.
very comfortable……
CONTACT DETAILS:
JO
Victoria
0438 553 340
PRICE : $1500 ono